Peace and Freedom
.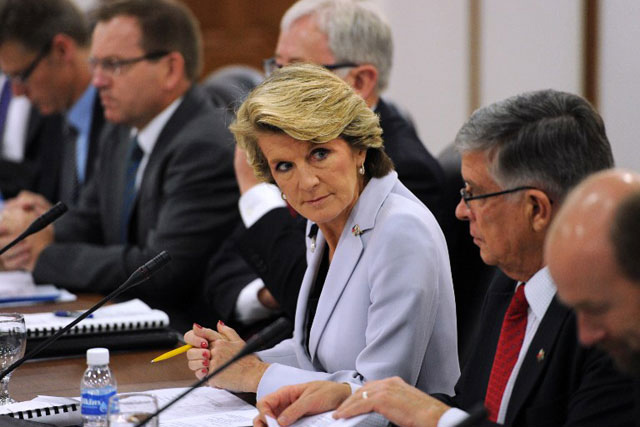 Australian Foreign Minister Julie Bishop (center) introduces members of her delegation at the start of their bilateral meeting with Philippine Foreign Secretary Albert del Rosario (not in photo) in Manila on Feb 20, 2014. Photo by Ted Aljibe/AFP
Australia Foreign Minister Julie Bishop has voiced her support for the completion of a code of conduct aimed at reducing tensions in the South China Sea.
The call comes in the wake of China's increasingly aggressive claim to almost the entire area.
Bishop, who was on a visit to the Philippines on Thursday, said she discussed the matter with her Filipino counterpart Albert del Rosario.
Bishop stressed that her country is not taking sides in the dispute, but urged claimants in the South China Sea to resolve disputes using dialogue.
Mornings @ ANC, February 21, 2014
Includes video:
http://www.abs-cbnnews.com/video/nation/02/21/14/australia-backs-code-conduct-south-china-sea